Dr. Zahi Hakim Museum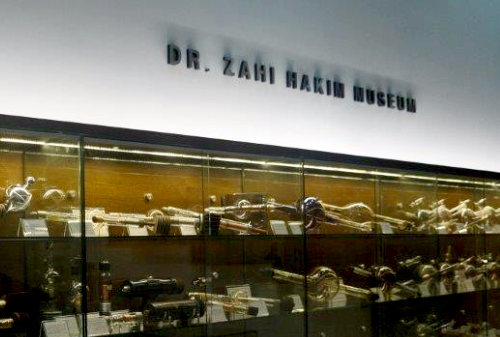 Facilities Management has collaborated with the Dean of the School of Medicine and University Services Offices to design and implement Dr. Zahi Hakim Museum. This museum houses an impressive old X-ray collection covering a wide selection of x-ray tubes and radiology antiques he has collected over the fifty years of his career and through the few years since his retirement. Dr. Zahi Hakim donates to LAU one of the rarest collections in the world devoted to the history of X-ray tubes. Unique and very rare tubes have been patiently installed by him at the Dr. Zahi Hakim Museum which is now housed at the Chagoury Health Sciences Center in Level 1.
Each item holds a story, they have been accommodated in custom made display cabinets that have beautifully reflected the value of each piece. As well, all the items have been displayed electronically by customizing built-in digital screens to describe the categories and go to a detailed index of the different items.
The planters around were planted in-house by a variety of cactus plants to reflect the patience and long life of a great man who spreads emotional and positive vibes to treasure history and always give back to imprint an everlasting legacy.
More details about the inauguration on LAU News: Inauguration of the Dr. Zahi Hakim Museum of X-ray Tubes