Working from Home
It's more evident that the social distancing, national and global interruptions are key to our survival and our fight against COVID-19, aka coronavirus. Everyone is aiming to find the best way to maintain their work or business in different strategies, physical or digital, as suited.
LAU facilities management's team strived to cope and have already adjusted to the current situation. We established a safe and effective strategy to maintain the core functions of our campuses with minimal personnel, and we are ensuring our daily tasks and all related logistics are happening off-site by working remotely.
As our teammate expressed it "My office is set and I am ready to work!" while Rim shared an inviting setting of her work station or area.;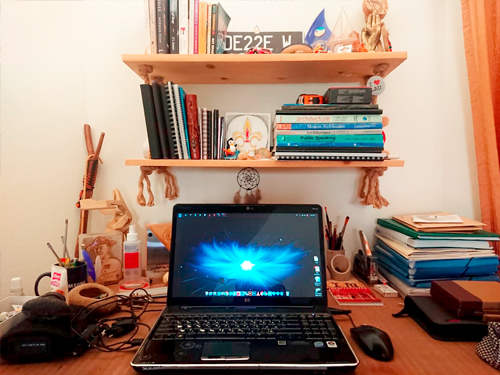 A well organized desk, bookshelves with architecture and design references, protective alcohol spray, a scouts' emblem of discipline, and a "I Love LAU" pin dominate the settings. Pride and dedication are at our core.
The FM team, with the support of the IT department, did not let the non-physical interaction step in the way, and are coordinating projects, design briefs, bills of quantities, and even light-hearted side chit-chats online and using different tools and platform.
Here are some recommendations on how you could join in and ensure the wellbeing of yourself, your family, colleagues, and mostly, our students and campuses: (extract from hubspot.com)
1. Get started early.
Believe it or not, one way to work from home productively is to dive into your to-do list as soon as you wake up. Simply getting a project started first thing in the morning can be the key to making progress on it gradually throughout the day. Otherwise, you'll prolong breakfast and let the morning sluggishness wear away your motivation.
2. Pretend like you are going into the office.
The mental association you make between work and an office can make you more productive, and there's no reason that feeling should be lost when telecommuting. When working from home, do all the things you'd do to prepare for an office role: Set your alarm, make (or go get) coffee, and wear nice clothes. Internet browsers like Google Chrome even allow you to set up multiple accounts with different toolbars on the top — for example, a toolbar for home and a separate toolbar for work.
3. Structure your day like you would in the office.
When working from home, you're your own personal manager. Without things like an in-person meeting schedule to break up your day, you can be quick to lose focus or burn out. To stay on schedule, segment what you'll do and when over the course of the day. If you have an online calendar, create personal events and reminders that tell you when to shift gears and start on new tasks. Google Calendar makes this easy.
4. Choose a dedicated work space.
Just because you're not working at an office doesn't mean you can't, well, have an office. Rather than cooping yourself up in your room or on the couch — spaces that are associated with leisure time — dedicate a specific room or surface in your home to work.
5. Take clear breaks.
It can be so easy to get distracted as a telecommuter that you avoid breaks altogether. Don't let the guilt of working in the building you sleep in prevent you from taking five to relax. Rather than just opening YouTube and watching some comfort clips, however, use your breaks to get away from your desk. Go for a walk around the house.
6. Make it harder for yourself to mess around on social media.
To counteract your social networks' ease of use during work hours, remove them from your browser shortcuts and, according to Fast Company, log out of every account. You might even consider working primarily in a private or, if you're using Chrome, an "Incognito" browser window. This ensures you stay signed out of all your accounts and each web search you conduct doesn't autocomplete the word you're typing. It's a guarantee that you won't be tempted into taking too many social breaks during the day.
7. Commit to doing more.
Projects always take longer than you initially think they will. For that reason, you'll frequently get done less than you set out to do. So, just as you're encouraged to overestimate how much time you'll spent doing one thing, you should also overestimate how many things you'll do during the day. Even if you come up short of your goal, you'll still come out of that day with a solid list of tasks filed under 'complete.'
8. Work when you're at your most productive.
To capitalize on your most productive periods, save your harder tasks for when you know you'll be in the right headspace for them. Use slower points of the day to knock out the easier, logistical tasks that are also on your plate. Verily Magazine calls these tasks "small acts of success," and they can help build your momentum for the heavier projects that are waiting for you later on.
9. Save calls for the afternoon.
Sometimes, I'm so tired in the morning, I don't even want to hear my own voice — let alone talk to others with it. You shouldn't have to give yourself too much time to become productive in the morning, but you can give yourself some extra time before working directly with others.
10. Focus on one distraction … like a baby!
There's an expression out there that says, "if you want something done, ask a busy person." The bizarre but true rule of productivity is that the busier you are, the more you'll actually do. It's like Newton's law of inertia: If you're in motion, you'll stay in motion. If you're at rest, you'll stay at rest. And busy people are in fast-enough motion that they have the momentum to complete anything that comes across their desk.
11. Plan out what you'll be working on ahead of time.
Spending time figuring out what you'll do today can take away from actually doing those things. And, you'll have planned your task list so recently that you can be tempted to change your schedule on the fly. It's important to let your agenda change if you need it to, but it's equally as important to commit to an agenda that outlines every assignment before you begin. Try solidifying your schedule the day before, making it feel more official when you wake up the next day to get started on it.
12. Use technology to stay connected.
Working from home might help you focus on your work in the short term, but it can also make you feel cut off the larger operation happening in the office. Instant messaging and videoconferencing tools can make it easy to check in with coworkers and remind you how your work is contributing to the big picture.
13. Match your music to the task at hand.
The best playlists are diverse playlists — you can listen to music that matches the energy of the project you're working on. Video game soundtracks are excellent at this. In the game itself, this lyric-free music is designed to help you focus; it only makes sense that it would help you focus on your work as well.
14. Communicate expectations with anyone who will be home with you.
Of course, you might be working from home but still have "company." Make sure any roommates, siblings, parents, spouses, and dogs (well, maybe not dogs) respect your space during work hours. Just because you're working from home doesn't mean you're home.