Earth Hour 2020 - #LightsOffLAU Home Challenge!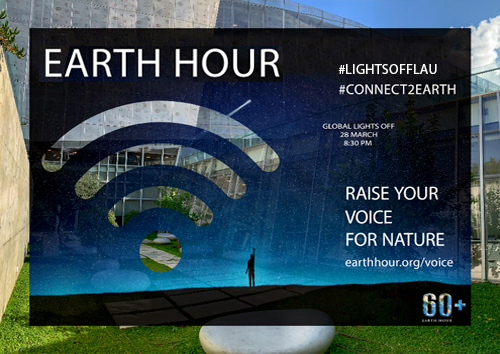 For the past five years, LAU has joined the globe in celebrating Earth Hour. This year, more than ever, we are determined to shed light on how our actions can help improve the environment.
Recent satellites' footage revealed that countries that have been under stringent lockdowns to curb the spread of the coronavirus have witnessed a cleaner environment due to the restrictions on people's transportation and the shutting down of industries. However, we don't need a pandemic to find ways to reduce pollution.
We can all help reduce our carbon footprint and enhance our environment.
This year, and due to the global health crisis, we will celebrate Earth Hour digitally from home.
While we are locked down in our houses, we are all invited to hold house-based activities.
Below are a few activities that we can carry out at home and still have a memorable Earth Hour celebration:
Switch off all unnecessary lights at home on Saturday, March 28, from 8:30 till 9:30 p.m.
Have a candle-light dinner with your family members
Practice some night photography
Have a night of board games in candle-light
Try some yoga at home
Dance the night away
Sign your voice for the planet petition Raise Your Voice
We also invite you to join us and take the #LightsOffLAU challenge!
All you have to do is share your short video on social media (less than 30 sec) of how you're celebrating Earth Hour at home.
Use the hashtag #LightsOffLAU so it can be shared on LAU social media and on our Sustainability page.
You can invite your family and friends to join the LAU community in this movement and to print and hang the poster at your building entrance or elevator.
Check Dr. Jabbra and the FM team's involvement as well as our community's Earth Hour 2020 #LightsOffLAU Home Challenge on Instagram and Twitter for more photos and videos.
Last Updated: April 1, 2020