Physical Plant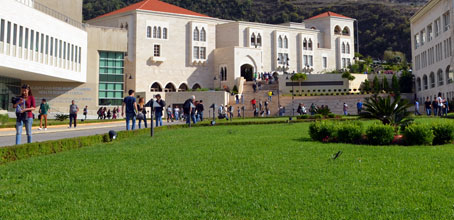 The Physical Plant Office provides, through its different units, all the vital services to ensure a healthy, safe and comfortable learning and working environment to LAU's students, faculty and staff. The Physical Plant runs a qualitative and cost effective operation of utilities, buildings and grounds with energy efficiency, water conservation and environmental protection in mind. It works hand in hand with the other FM entities to ensure high quality standards and sustainable construction in new and renovated buildings.
Work Control Unit
The Work Control Unit (WCU) is a fully integrated module with multiple tasks which ensures proper work flow within the different Physical Plant entities. Its staff is here to ensure that all University faculty, staff and students are comfortable in their environment. In addition to that, it receives the Community's service requests and follows up on them to satisfaction.
The Operations and Maintenance Unit (O&M) provides operations and maintenance services to the campus buildings, grounds and equipment. O&M works are carried out mainly by its internal teams that comprise multi-skilled personnel experienced in all trades in addition to some outsourced services when needed. O&M ensures continued safe operation and prolonged life of campus facilities through proactive preventive maintenance program, a timely corrective maintenance intervention and an on-demand support to the community on a 24/7 basis 365 days a year.
MEP Design and Commissioning
The MEP Design and Commissioning Unit answers the University's building services requirements by providing the appropriate electrical and mechanical systems. This unit sets General MEP Design Guidelines with sustainability, safety and operations practicality in mind; it carries high performance MEP designs, supervision and commissioning for renovation projects and it conducts design review, supervision overview and taking over of Capital Projects. This unit also ensures a smooth transition of the completed projects to the O&M unit.
The Environmental Health and Safety (EHS) unit ensures the safety of the University community. This unit works with faculty, staff, and students to prevent accidents, report unsafe conditions, implement corrective actions and protect the environment. In capital and renovation projects, EHS contributes in setting the safety standards in line with LAU requirements as well as commissioning the safety systems to make sure they meet these standards. In addition, EHS creates awareness and a general safety culture in the workplace and offers specific training that are designed to give the University community the tools and knowledge needed to keep them safe.
The sustainability unit is committed to lead the university in a more sustainable direction and to integrate sustainable infrastructure and behaviors across the university by using a science-driven yet partnership-based approach with the LAU community. This unit engages students, faculty and staff in a joint effort to reduce LAU's environmental impact, its use of natural resources and its operating costs.
Our strategies include creating green awareness, reducing energy and water consumption, reducing waste, recycling, preserving the environment, designing green buildings and purchasing sustainability.
Last Updated: March 14, 2020
---